DERMA DEEP CLEANSING MILK - 100ML & 7ML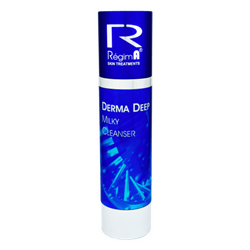 (Cleansing Only) For Dry/Dehydrated Skin. Cleanses the skin gently, yet deeply, leaving a film of moisture.
A light, yet rich, moisturising creamy cleanser containing a blend of essential skin vitamins and plant extracts, providing moisturising and soothing effects. This gentle, effective formula cleanses the skin deeply, whilst applying a layer of moisture and neutralizing the natural fruity acids within the RegimA night creams.
The low foam design ensures that all ingredients immediately apply a film of activity on the skin, leaving it feeling clean, yet soft, smooth and hydrated.
Directions for use:
AM & PM: Wet hands, face and neck and using a small amount of cleanser, massage gently for one minute, avoiding the eye area if sensitive. Rinse off thoroughly (Do not apply toner). To be followed by the appropriate RégimA day or night home care essentials.
It is recommended that one cleanses the face following strenuous sporting activities to remove excess salt and oil to help prevent pore blockage.
MUST NOT be combined with any other product range