LPG LIPOMASSAGE™
Endermologie® - Body Treatment
Slimming Activation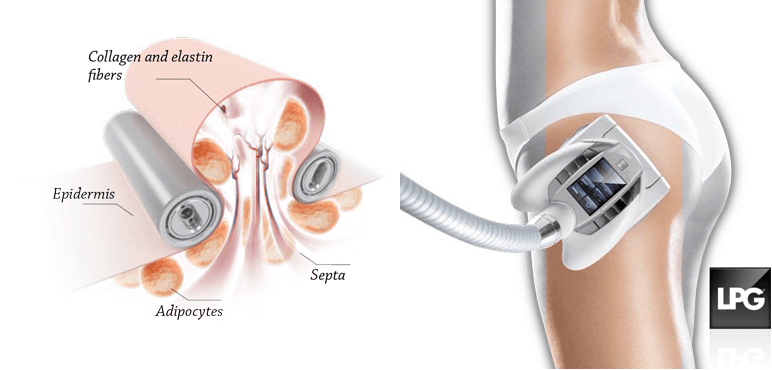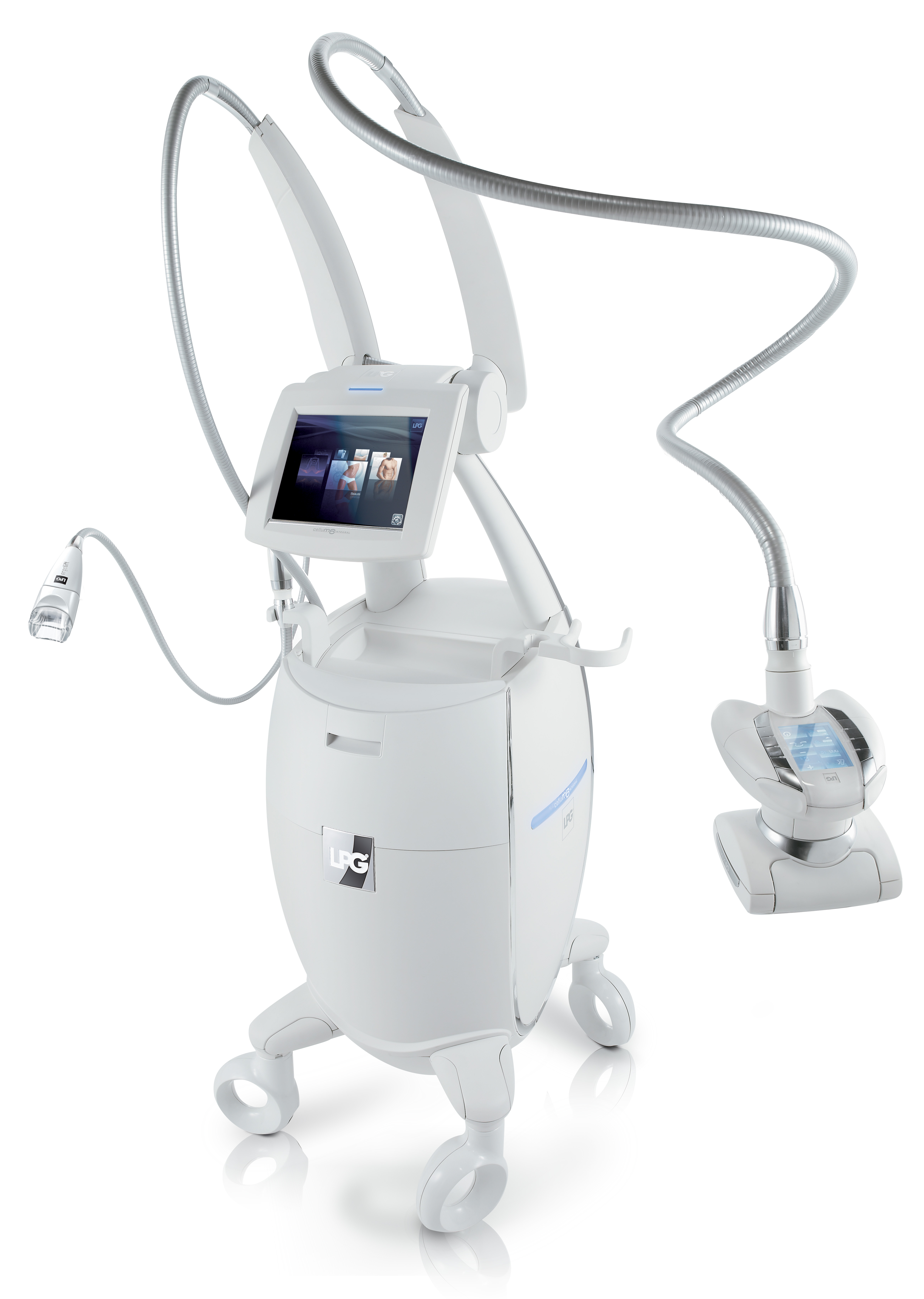 Lipomassage™ by Endermologie® is a patented technology by LPG – a non-aggressive method, which, by natural means, eliminates localized fats, which are most resistant to diets and workouts, smoothens cellulite, sculptures and tightens sagging skin and tones. The mechano stimulation renews cell activity by restoring the healthy circulation of the blood and lymph and connective tissue and provokes intensive biological reactions – reactivates the elimination of fat, stimulates fibroblasts to produce new collagen and elastin.
How does Lipomassage™ work?
Lipomassage™ is now highly more effective, due to the innovations in the new LPG CELLU M6® Integral machine. The working nozzle Ergodrive works in 3D high resolution, treats the tissue inside out, twists in 180 degrees, and has 50% wider and deeper camera, working with 50% bigger skin fold.
The exclusive patented technology by LPG – the independent motorized ROLL rollers are longer and further away, which gives them the ability to catch more than 300 skin folds, and to work in depth with incomparably high precision and efficiency. The different rotational and varying actions /ROLL'IN – fat burn, ROLL'UP – smoothening, sculpting, ROLL'OUT – tightening of the skin/, Lipomassage is not only effective, but also pleasant, relaxing and safe. The control screen is very similar to a GPS navigation system, allowing the operator to precisely follow the procedure guidelines, created for every problem and body type. The new CELLU M6® Integral, with a wide range of therapies, answers every question, and helps for beauty, weight loss, or anti-age for the entire body.
The procedures are performed by an officially trained and certified therapists.
According to the guidelines, the LipomassageTM procedure lasts 45min, and has to be repeated twice a week, in a course of 8 or more, depending on the problem. It is recommended that supporting procedures that retain and prolong the effect are done once to twice a month.
Who is Lipomassage™ for?
---
Lipomassage™ for WOMEN:
Do you have cellulite?

Do you store stubborn fat, despite a healthy lifestyle?

Do you want to reshape your body and keep your skin firm?

Do you want to regain your figure after pregnancy?

Are you going through menopause, but don't want to undergo the hormonal changes that thicken the waist, back, and arms?
Lipomassage™ for MEN:
Do you have love handles?

Do you store stubborn fat, despite a healthy lifestyle?

Are you losing weight, and you want to sculpt your body?

Have you lost weight, and you want to keep your skin firm and elastic?
Total Contradictions:
Infections and contagious rashes

Pregnancy

Phlebitis (swelling or inflammation in a vein caused by a blood clot)

Cancer
LPG Lipomassage™ - Treatments
---
Slim Down Fat Cells
Do you have localized, unsightly curves (saddlebags, a tummy, large thighs, etc.), and when you lose weight, you never lose it where you want to? Rest assured, LipomassageTM can target localized fat and act where you really need it!
The balance between the production and elimination of fat is a natural process involving fat cells. Despite a perfectly healthy lifestyle and regular physical activity, the process of storing fat tends to increase over time.
LPG Action: LPG's mechanical ROLL stimulation triggers deep biological responses and thus reactivates the elimination of fat (lipolysis).
Results: Fat is removed more easily, and your figure is visibly refined. Your curves disappear, especially where you want to lose it.
Smooth Cellulite
Cellulite, a true nightmare for some, affects nearly 90% of women! And as if that weren't enough, cellulite areas remain totally unaffected by even the strictest diets and physical exercise.
It results from both excess fat in fat cells and retained water all around it. By growing larger, the fat cells deform the skin envelope, thus causing an orange peel effect.
LPG Action: LPG's mechanical ROLL stimulation can soften tissue and de-compartmentalize fatty cells.
Results: The skin is smoother and softer, and cellulite gradually and permanently disappears!
Firm The Skin
Weight changes, pregnancy, or age the skin gradually loses its firmness and its flexibility. Although sagging skin affects the entire body, some areas are more sensitive to it, including the inner thighs, the tummy, and the arms.
This phenomenon is explained by the slower production of elastin and collagen fibers by the fibroblasts. The skin then loses its substance, and signs of aging appear.
LPG Action: LPG ROLLS combined with sequential stimulations act at the core of the fibroblast and activate the production of these essential support fibres (collagen and elastin).
Results: Redensified in depth, the skin becomes visibly firmer and toned!
Re-Sculpt The Figure
Slimming down is nice, but keeping curves and harmonious volume is even better! Affected areas are usually the hips, stomach, and especially the buttocks (flat or uneven)! Volume is often not symmetrical, and curves lack shape.
LPG Action: LPG ROLL stimulations can reshape your figure precisely and in a specific location. Volume is rebalanced to restore the body's ideal shape.
Results: Contours and curves are reshaped, and your figure becomes harmonious.
Hang onto your butts!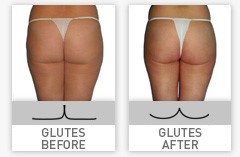 If while reading this you're sitting with your legs crossed, you may need LIPOMASSAGE to re-sculpt your contours - especially your buttocks! That's right. If you cross your legs regularly while you're sitting,
you're distorting the curve of your buttocks (your glutes), making them square and asymmetric!
Don't worry. LPG ROLL stimulation, combined with highly targeted manoeuvres, LIPOMASSAGE can reshape the lines of your body (i.e. the horizontal fold under your glutenous), harmonizing and uplifting your contours.
Turn your Y into an X!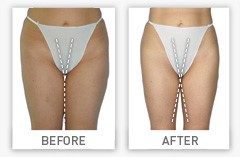 Are your thighs very close together? Then you know how unpleasant "thigh-touching syndrome" feels. It's when the body adopts a closed Y-shape that stretches from groin to knees. Neither dieting nor exercise can help, and your inner thighs rest flat against each other. LipomassageTM can eliminate these stubborn localized thigh fat reserves, redefining your curves, firming your skin and turning your less-than-perfect "Y" figure into the ideal "X".
Frequintly Asked Questions
---
Here are some common questions and answers, but if you have any others, please do not hesitate to get in touch with us to arrange a FREE consultation with one of our therapists.
Is it really effective and scientifically proven?
LPG's techniques have been used for many years by plastic surgeons, dermatologists, doctors, physical therapists, institutes, and spas throughout the world.
Their efficacy has been proven by more than 80 clinical and scientific studies. The main study, coordinated by Professor Lafontan (INSERM, Toulouse), demonstrates that the latest generation of Cellu M6 motorized rollsactivates lipolysis (fat elimination increased by 50%) by stimulating the fat cell via its ß receptors, which are responsible for the removal of fat.
What are the contra-indications?
In general, Lipomassage should not be practiced in cases of serious and progressive illness, serious blood circulation disorders, phlebitis, pregnancy and cancer.
If in doubt, ask your practitioner or doctor for advice.
How long does it take to see the results?
You will feel results after the very first use. Treated areas are less compact, less voluminous, and decongested. Your skin is smoother and softer.
After six sessions, the results are intensified: your orange-peel skin is smoother, and your figure is reshaped and toned!
Does it hurt?
Although it is intense, a good Lipomassage should never hurt! Instead, during and after the session, you have a true sense of well-being. If the session is painful, the setting is not adequate. Do not hesitate to speak with your practitioner.
What do I wear during the treatment?
LPG Endermowear is a clothing specially designed for Lipomassage. For personal use, it ensures perfect hygiene, and its opaque areas protect your privacy during the treatment. The Endermowear's unique composition ensures an excellent grip of the skin for an even more effective Lipomassage.
Do I need to follow a diet along with my Lipomassage sessions?
It all depends on your weight and your beauty goals! Diets can help you to lose weight, but not always in the exact spots that you want to. Lipomassage specifically targets these stubborn areas. Cellulite is also a concern for most people. The Lipomassage technique along with the ideal weight loss diet program both target stubborn cellulite. Ideally, for the best success and a reshaped body your Lipomassage program will be paired with the ideal weight loss program and regular moderate physical exercise (ex. 30 minutes of walking per day).
What happens to the removed fat?
First of all, sugars and fat are stored by fat cells in fatty tissue. During a Lipomassage session, the LPG Rolls stimulate lipolysis and therefore activate fat release. They are transformed into energy source to fuel the muscles.
Why is it recommended to be active after a Lipomassage session?
To optimize the Lipomassage results, physical exercise or fast walking after each session helps to burn fat released during the session, easy as that!
Do the results last?
Results appear quickly and last. After a program, one session per month is generally sufficient to maintain the effects of the Lipomassage.
Treatment Sessions
---
12 Sessions

(45min Each)

Single Session

(45min)

*LPG Body Suite (Compulsory)